I am WoundWise.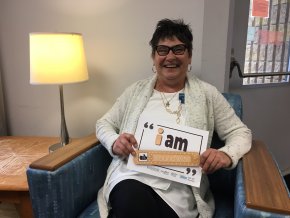 November 21, 2019 is World Wide National Pressure Injury Prevention Day.
As I began my role as Wound Care Lead two years ago I realized there were many concerns surrounding wound care. This was most evident by the number of wound infections, worsening wounds and what surgeons described as non healable wounds. Now it was time to investigate the root causes of how we were failing our residents. Our QI indicator was 7%.
First, I had to determine the knowledge base of registered staff. By doing this it was evident that they did not understand the processes, products or procedures of wound care. This then lead to assessing the knowledge of the PSW's and there again they did not have an understanding in the prevention of wounds. Eureka!!! First solution was education of the staff.
How were we going to achieve this? We called in our Nursing consultant Jennifer Bilbie, our Dietary Consultant Donna Larkin and our 3M rep.
Using WoundWise tips all staff were educated on positioning, nutrition, policies, products, environmental hazards, hydration and how to recognize changes in our residents that would put them at risk for developing pressure injuries.
If our staff lacked the knowledge on wound prevention then what about the families and residents. WoundWise created a brochure which was added to our admission package for residents and families on pressure injuries prevention tips. During the admission process we make people aware of their role in pressure injury prevention. We had great support from the team in helping with education.
Second, did we have the necessary equipment to assist with off loading pressure? No we did not. We purchased pillows, off loading boots, specialized mattresses. Jennifer ( our biggest advocate for wound prevention) educated all staff in a 1 to 1 setting using power point, coming in on the night shift to do rounds and show PSW positioning techniques. We also looked at our wound care supplies and went to single use items. This greatly reduced the infection rates of wounds and the healing process began.
Third, we have developed a partnership with 3M. Our rep Matthew Walsh provided educational sessions for both the Reg. Staff and the PSW's on products. Discussions were held on when to use, how much to use and the benefits to the resident.
Fourth, we determined who our high risk residents were and implemented the RISE program and we continue to use this with great success.
Fifth, utilize our Cardinal Health resource ET nurse.
I'm going to brag about a great success that we have had at our home. We had a resident who was admitted with a stage 4 pressure injury. She was admitted in 2017. It was unknown as to how long prior to admission she had had this pressure injury. She had been seeing surgeons who debrided the wound, suggested many types of dressings, She had several wound infections requiring antibiotic therapy. Now we were two years into treating this pressure injury. We were at our wits end and almost defeated, but then were called on the troops. We called in our ET nurse, our 3M rep and consulted with Jennifer ourWoundWise guru and our Dietitian. We had the ET nurse come in and assess. Again we had to clean up the infection. We asked the 3M rep about products and one was suggested. We looked at her nutrition and added a nutritional supplement to promote wound healing, special mattress was purchased, positioning techniques were utilized by the PSW, she was put on the RISE program, monthly visits from ET nurse, and weekly assessments by the wound care lead and slowly we seen an improvement. Then it happened within 4 months were had what surgeons, family the resident and even some staff thought a non healing wound HEALED.
This greatly improved the quality of life for the resident, she had less antibiotic use, less pain, her skin had much improved and it reduced the workload for the staff. This could not have been accomplished without the dedication all the team.
WoundWise be wise and use the tips offered, include all of team members and you will be successful.