I know a war hero, and he was called Dad.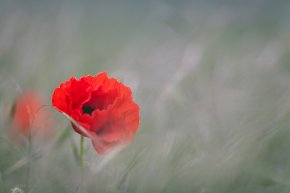 I have lived with the Military as part of my life – all of my life. It has become very important to me and has been a force in how many of my values have come to be. My father was a Chief Petty Officer in the Royal Canadian Navy during World War II. He held 2 very important positions during his service. The first was that he was a Torpedo Coxswain, which meant that he directed his seamen in the torpedo room during active battles at sea. The second, a more covert position, was that of Official Naval Photographer. He was one of a very small group of seamen that were delegated to take the official photographs of the war as it happened. After the war, many of those photographs ended up in our home, and as a child, I remember pouring over photos of the ships at sea setting up the smoke screens before the Invasion of Normandy. While my father spent little time reminiscing about those times – they were not great times, he ensured that we all remembered them. He spoke fondly of his comrades and commitment and of heroism.
My father lived to be a Veteran of that war, he brought home 4 Medals, along with his General Service badge.
Awarded to those who served for 6 months of service on active operations for Army and Navy and two moths for active air crew between September 2, 1939 and May 8, 1945.
Awarded to those who served in addition to the 6 months above, and additional 12 months afloat at sea.
The War Medal 1939 – 1945
This medal was awarded to all full-time personal of the Armed Forces and merchant marines for serving between September 3, 1939 and September 2, 1945.
The Canadian Volunteer Service Medal
This medal was granted to persons of any rank in the Navy, Military or Air Force of Canada who voluntarily served on Active Service and have honorably completed eighteen months (540) days total voluntary service.
A small excerpt from a diary he kept says:
On June 4, 1944 started to sweep channel for the great invasion of Europe. Troops landed at 0700 on June 6, 1944 after Naval heavy and bomber bombardment. Dropped anchor in Seine Bay at June 6, 1944. Remained at anchor in Seine Bay June 7, 1944 and June 8, 1944. Heavy air raid by German planes.
From time to time, it seems that the men on those ships must have had to fill many roles. We have many original Naval documents including one Naval Message my father must have taken during a turn in the Radio Communications room on board the HMCS Kenora.
The document is dated May 5, 1945. Document number 1835.
It is to the General forces – all members, from Naval Services Head Quarters.
It is for immediate release. And states:
Tuesday May 8, 1945 has been officially proclaimed a National holiday. All ships are to Splice the Main Brace on that day, vide Naval Order 3315, paragraph 4.
For those of you who don't know, May 8th was VE Day – Victory over Europe Day
And for those of you who are wondering what Splicing the Main Brace is – it means Break out the Navy Rum – it's time to Celebrate!
Sometimes, the War really does seem so long ago, and it's hard to connect it to anything that means anything to us individually. My husband Tim also served in the Navy, before we were married. He was trained in Electronic Warfare for Radio and Radar Interception – kind of like playing Nintendo but with live ammo! Because of people like my Dad, my husband never was called to war.
Shortly after we met, my husband enlisted in the Navy where he was an Electronic War Fare specialist and served for 2 terms. While he did not see active duty, – he was also on reserve during the Gulf War when we lived in Fort Mac.
1998, Joan Cody, Extendicare Athabasca Administrator