Today is Extendicare's first-ever National Falls Prevention Day! – November 29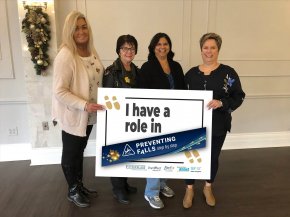 Did you know Falls are the leading cause of injury-related hospitalizations among older Canadian adults? It is estimated that 20-30% of older adults fall each year. With that said, everyone is at risk for falls! And everyone has a role to play in fall prevention. November is deemed, "Falls Prevention Month" and is designated to encourage organizations to plan initiatives and share evidence-based information on fall prevention.
At Extendicare, we aim to prevent falls step by step with and use the acronym S-A-F-E for universal fall precautions:
Safe environment: bedrails removed/down based on assessed need, clutter-free, brakes on, lights on.
Assist with needs: mobility, scheduled toileting, eyeglasses and aids, minimize restraints
Fall risk reduction
Engage residents and families
Extendicare has specific quality indicators in four clinical areas that all long-term care homes have as improvement goals they work to obtain – one of these is Falls. Our Quality, Risk and Innovation department has a team of dedicated Falls consultants who organize the November Falls Prevention initiative, provide education and tool kits, and overall consultation for preventing falls.
Our staff, residents and family members are educated on fall prevention/injury reduction strategies and on all specific fall risks. We use multi-factorial risk assessments, which assess all residents for fall risk on admission, on a regular schedule, following a significant change in status, and following a fall. The results of these risk assessments are communicated to the resident, family and health care team.
At the resident level, we create individualized care plans with interventions targeted to reduce the risk of falls. At our organization level, we develop policies for fall prevention/injury reduction, regular safety checks, and environmental modifications and audits. If a fall occurs, our staff investigate the area to identify any contributing factors with the intent to minimize the chance of a re-occurrence.
In November, our homes participated in a variety of activities such as strength and balance exercise class, falls prevention bingo, footwear clinics and walkers gone wild to teach residents, family members and staff about the steps they can take to prevent falls.
Let's continue to work together to prevent falls.